I got an iGrill Mini from the guys at Mac's BBQ. I really wanted to be able to monitor my BBQ from my iPhone.
In The Box
iGrillmini
1 Meat Probe
1 Probe Wrap
1 Coloured Probe Indicator
1 Battery
1 Magnetic Disc
Features
Single Probe
Bluetooth Smart Connection
Extended Battery Life
Smart LED
Proximity Wake-Up
Connect Multiple At Once
Convenient Mounting
Measures -22°F to 572°F or -30°C to 300°C
First off all I installed the iDevices Connected App and it was very simple to add the device and get it all setup. I like the way the app keeps a graph log of the temperature (see screenshot below) it makes it easy to predict when your food might be ready and also if you are cooking to hot too quickly!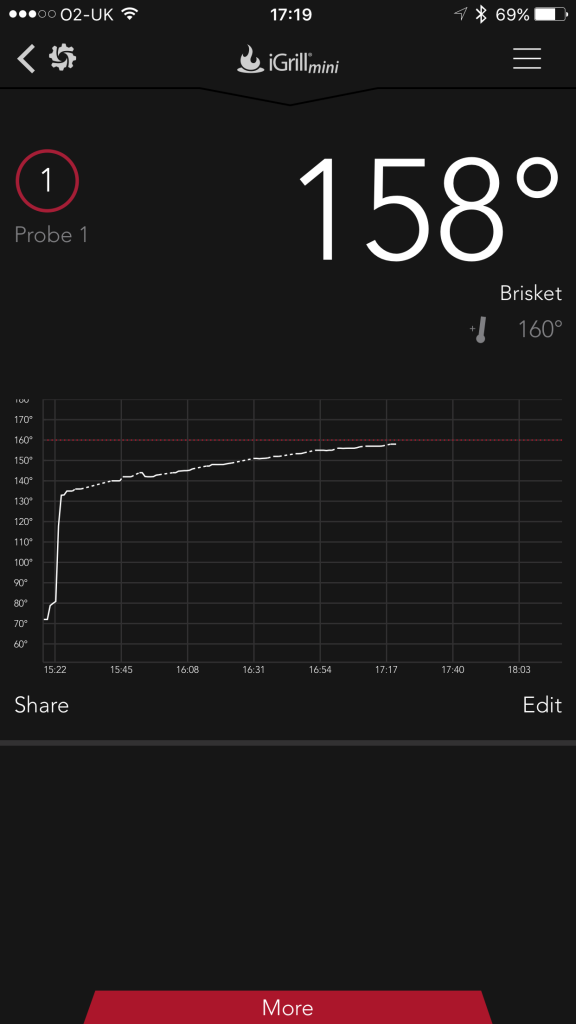 I only used the iGrill Mini for the last couple hours of cooking.
The probe was very accurate and I love the idea. My only criticisms would be that the range of the bluetooth is not quite long enough and once when it did disconnect due to being out of range it completely reset itself so I had to re-setup the cook in the app again which was a little annoying. I would prefer if the device could connect to wifi and could be monitored even when you leave the house. I really want to monitor my BBQ while I am out shopping 🙂